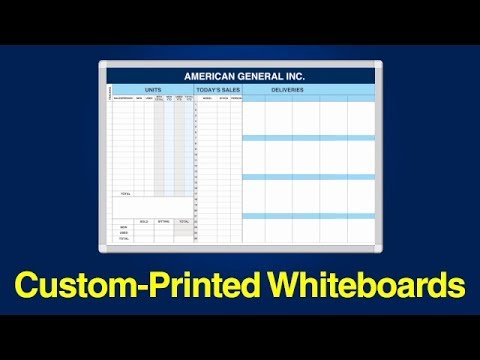 Custom-Printed Dry-Erase Whiteboards
Have your custom whiteboard design or custom map printed directly into our magnetic porcelain-like steel dry-erase surface. All of our custom whiteboards are beautifully framed, and built to stay like new for a lifetime of daily use.
Experienced board designers ready to Help you at any stage
Our experienced custom whiteboard system specialists will help you turn any design into a professional looking magnetic custom whiteboard system. Our on-staff whiteboard designers have helped thousand of customers create many custom whiteboards, flight schedules, factory layouts, patient bedside boards, engineer project status boards and much more.
"I want to thank you for the great experience I have received over my last two orders. I was able to describe what I needed and what I was looking for and Sue was able to help me customize my needs. Again thank you to Sue and your team of experts and I look forward to the next order"
—LEED Accredited Professional, Frederick CO
High detail, any color, any design, any size
We can print up to 300 pixels per inch on our custom whiteboards up to 12ft. We have full CMYK color capacity and have access to a wide array of maps and stock images. Whether your custom whiteboard is a high detail map or a layout with colored columns and rows, we can custom print anything.
&quote;The colors are beautiful and true. It is nice and sharp and clear. One of the great things is that it is light weight. It is very portable. I'm entirely impressed with the quality"
—Lieutenant, Valdez AK
Our durable, heat-fused, custom whiteboard printing process
We do not use laminated overlays or silk-screen inks that sit on top of your custom whiteboard's surface. We use heat and pressure to permanently fuse your design directly into our porcelain-like steel whiteboard writing surface. This proprietary printing process produces crisp, detailed prints that stay like new, and will not fade, crack or smudge with day-to-day use. Our printing process will keep your custom whiteboard looking professional and like new for a lifetime of daily use.
Super strong custom whiteboard construction
We bond our printed 22 gauge steel and aluminum backer to a honeycomb core producing a super strong and perfectly flat stress-skin panel. We then encase your custom whiteboards with an aluminum truss frame and super strong Delrin injection molded corners. Order your custom whiteboard with one of our unique Frame colors, Silver or Black.
REQUEST A QUOTE
GET STARTED
| Size | Steel | Glass |
| --- | --- | --- |
| 18" x 24" | $349 | |
| 24" x 18" | $349 | |
| 2' x 2' | $425 | |
| 2' x 3' | $499 | $939 |
| 3' x 2' | $499 | $939 |
| 2' x 4' | $589 | |
| 4' x 2' | $589 | |
| 3' x 3' | $709 | |
| 3' x 4' | $939 | $1,535 |
| 4' x 3' | $939 | $1,535 |
| 4' x 4' | $1,065 | $1,699 |
| 4' x 5' | $1,139 | $1,819 |
| 5' x 4' | $1,139 | |
| 4' x 6' | $1,295 | $1,955 |
| 6' x 4' | $1,295 | |
| 4' x 7' | $1,449 | |
| 4' x 8' | $1,579 | $2,119 |
| 4' x 10' | $1,865 | |
| 4' x 12' | $2,165 | |