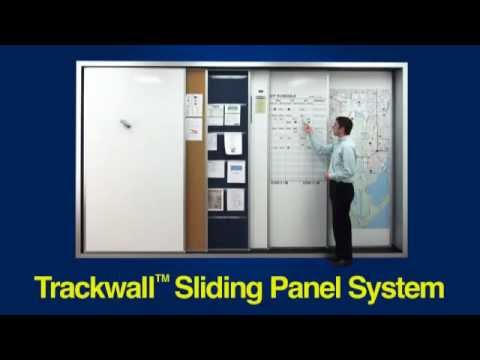 TrackWall® Sliding Panel FullWall® System With Magnetic Steel Whiteboards, Maps and Bulletin Panels
Our sliding whiteboard panels are designed to get the most use out of any wall space so you can exhibit all your important information on our convenient sliding panels.
Ideal where wall space is inadequate to exhibit all your graphics or where you want to show selected panels, keeping the others concealed, but ready to slide out for viewing.
Quick and easy to Order and Install: It sits on the floor and attaches to the wall. Leveler glide feet adjust for uneven floors. It should take about 3 to 4 hours (with a coffee break), 2 workers, a screwdriver, drill (for wall bracket attachment), framing square and carpenter's level.
Easy to Operate: Framed panels slide easily in the patented cabinet track system, but stay in place until you are ready to move them. You can lift out the rigid lightweight panels, interchange and sequence them to tell your story. Patented. Ideal for map display using our magnetic MapMount® laminating kit (it's reversible), or have your digital map graphics permanently heat-fused printed on one write-on magnetic steel panel or in sections for large maps. Our specialty since 1967. Call us at 800-624-4154.
Maps can also be ordered with full color detail or black outline maps heat-fused printed directly into the whiteboard steel panel faces. Please call us at 800 624 4154 and talk to us about your map requirements.
At NO extra cost, Using our Design-it Editing tool, you can personalize titles and headers on your board. To access the tool look for the
symbol before adding the item to your cart
Product code: TWA
Build your Track Wall System:
Select the Size of your Cabinet & Panels
Cabinet
Tracks:
3
Item:
#TWA53
Panel Capacity:
9
Quantity:
Panel in View:
5
Unit Price:
$10,589
Outside Dimensions:
Add Panels
Plain White
0
$1,195
1-1/4" Rows
0
$1,339
1-1/4" Ghost-Rows™
0
$1,339
1" ShadeLine® Rows
0
$1,339
6-1/2"w Columns
0
$1,339
1" Square Grid
0
$1,339
1" Ghost-Grid™
0
$1,339
MapMount® System
0
$1,835
TackFree® Blue
0
$1,379
TackFree® Black
0
$1,379
TackFree® Gray
0
$1,379
TackFree® Tan
0
$1,379
TackFree® Green
0
$1,379
TackFree® Claret
0
$1,379
FabricTack® Blue
0
$1,195
FabricTack® Black
0
$1,195
FabricTack® Gray
0
$1,195
FabricTack® Tan
0
$1,195
FabricTack® Green
0
$1,195
FabricTack® Claret
0
$1,195
CorkTack™
0
$1,195
Cabinet Specifications:
Cabinet Width
Tracks
Qty

Price

Panels
0
$0
Cabinets
1
$10,589
Total
$10,589