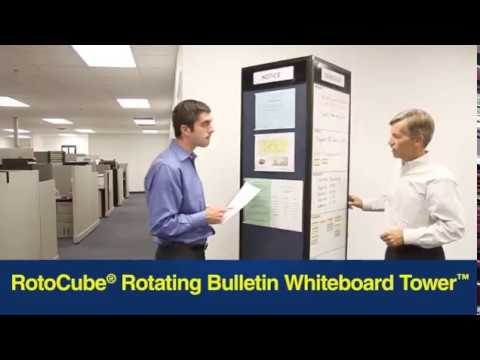 Display space equal to a 4' x 10' whiteboard.

Rotates silently with a touch of a finger.
RotoCube® Big Island™ Rotating Bulletin Tower
This large RotoCube® really grabs attention. With the same display space as a 4x10' whiteboard in only a 48 inch footprint, you can be sure your message will be seen.
Display information wherever people work, gather or pass by: on the production floor, lobbies, lunch rooms, hallways, reception areas, break rooms, etc. It grabs immediate attention and turns with a finger touch in either direction so you can view it from any position and accommodate several viewers at once without crowding.
Specify 4 individual side panels to fit your display needs, each with a 47"h x 32"w viewing space. Select from 26 MagnaLux® porcelain-like plain or heat-fused printed steel whiteboards, bulletin, card or photo display panel styles.
Ships assembled, ready to use. Overall size: 34"x 34" x 80"h with a 48" turning radius. It weighs 170 lbs. The 34" width allows it when moved, to fit through most standard doorways. Special panels to order available on request. Adjustable feet. If ordered with the optional casters it comes with a shorter base so the overall height is still 80". For more information call us: 800 624 4154 design desk.
To Tack papers on these whiteboard RotoCubes®, See Extra-Strong WakTack® magnets.
To display documents on these whiteboard RotoCubes®, See Magnetic ChartJackets®.
For standard 17"w. RotoCubes®
SEE
RotoCube® .
#RCIS74-W-W-W-W
Unit Price: $2,836
Quantity
Price
One

1 @

$2,836
2 - 4

1 @

$2,744
5 - 9

1 @

$2,664
10 - 24

1 @

$2,572
25 +

1 @

$2,500
Add Locking Casters - Wheels (Optional):
Set of 4: $199
#RCIS-WHEELS